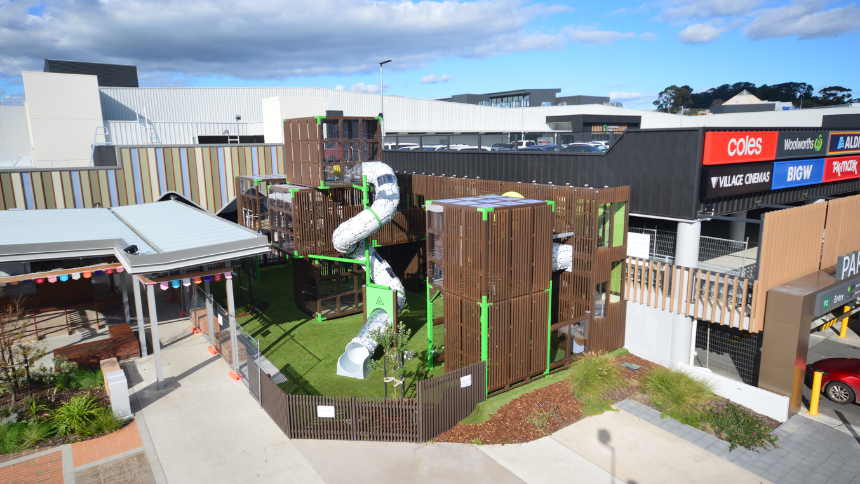 Elevating a playground from good to outstanding is all about going back to basics, and preferencing function over form. Creating a space that offers more than just beautiful looking structures. Because to attract children to a playground, and keep them coming back, you have to create exciting, memorable and engaging spaces. Where children scream in absolute delight and can't wait to get in amongst it all and play, and where parents and carers, across generations, are equally engaged and happy to be there.
Karingal Hub Happy Camp is the perfect case in point.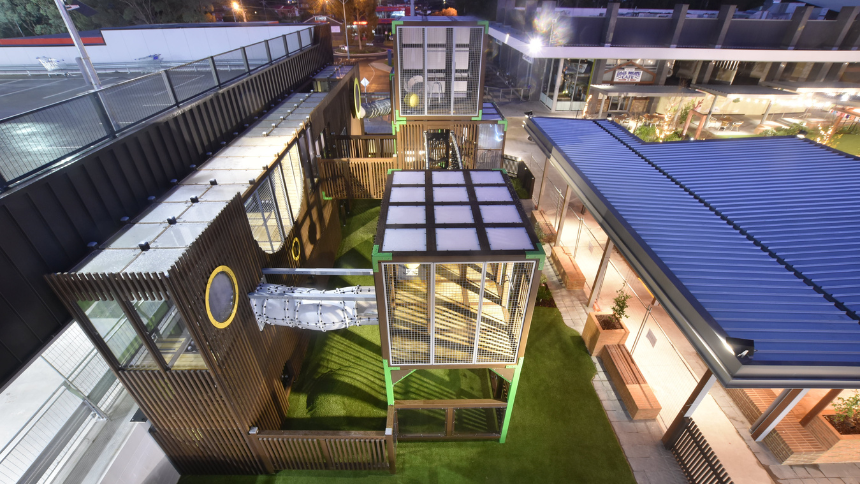 As part of the Karingal Hub redevelopment, our client ISPT's vision was to create a new entertainment and dining destination in the Karingal Hub Town Square. A genuine civic plaza where the community has a diversity of spaces in which to linger, dine, play and spend time with family and friends. But, Michal Krodkiewski, Probuild's Senior Design Manager, says the initial Town Square design was a large open space lacking intimacy and activation.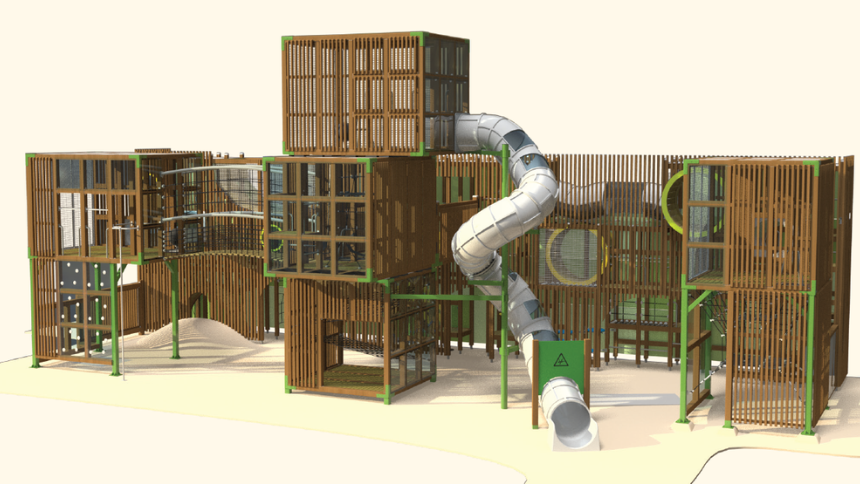 In the feature playspace, Chris Wanless, ISPT's Senior Development Manager says they wanted to, "bring the community together and ignite creative expression and imagination, the immersive experience catering for varied accessibility and diverse play engagement."
Enter Craig Tan Architects, who designed the Town Square as a series of experiences that created opportunities for people to occupy and activate along the edges.
Karingal Hub Happy Camp is the keystone to the new Town Square.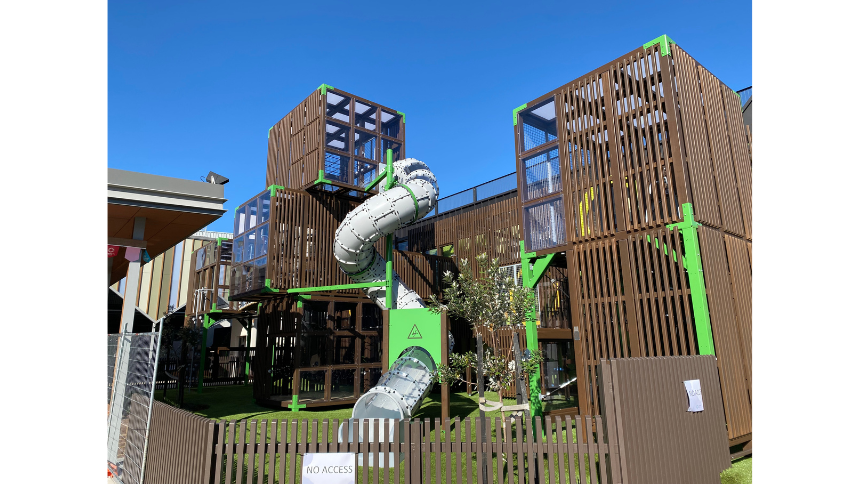 Bringing an old-school adventure playground to spectacular, modern life
"The playground's function was to activate the side of the car park, which forms one of the boundaries to the Town Square, rather than having a dead car park edge. And it was about making a playspace that's fun and exciting, one that contributes to the whole experience of the Town Square and the Karingal Hub Shopping Centre," Tan says.
Channelling his inner-child, and following community consultation by ISPT, Tan designed an old-school adventure playground. A space brimming with personality and character, appealing to a multitude of likes where you can climb in at different points, traverse around, go across bridges and have multiple adventures on the way through.
The kind of playground where children are desperate to visit and can't wait to return again and again.
Karingal Hub Happy Camp maximises the use of its limited floor space with efficiency and creativity. A fully enclosed vertical maze, of almost three storeys, sits along the car park edge and, taking inspiration from the popular board game Snakes and Ladders, has multiple challenges, pathways and adventures. Three inter-connected towers sit in front of it, attached by bridges, the middle tower's swirling tube slide the ultimate destination. And in between, every space is filled.
A treasure trove of choices. There's a climbing wall, bridges, climbing frames, platforms, rope areas, side swings, and undulations on the ground. Little pauses in the playground care of circles large enough to sit inside and look out, create quiet, passive spaces. A space at the top of the vertical maze attracts light across it, almost like a sundial. And when the two trees planted amongst the towers grow, you'll be able to look into them when you're in the towers, creating a truly sensory experience.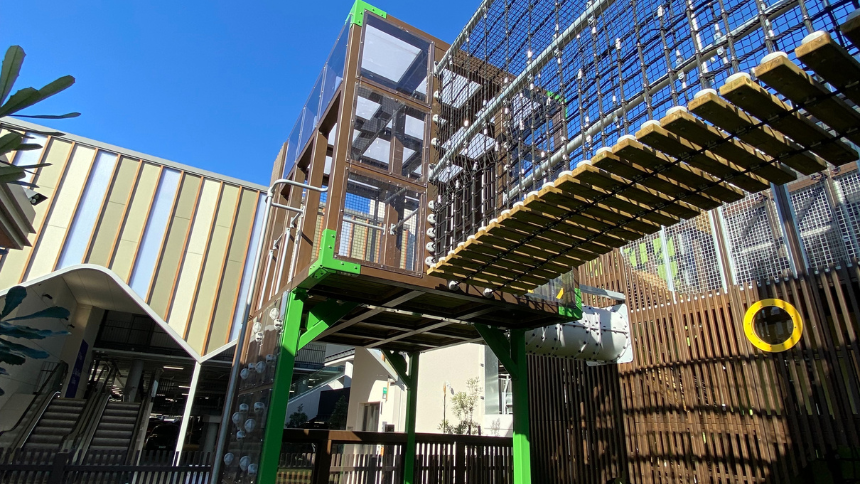 It's large enough for adults or carers to take part in the play journey, helping younger ones navigate tricky bits. And with minimal fall height opportunity at every turn, it's safe for children, which is highly appealing to adults watching on.
While on paper this design was truly incredible, the question for ISPT, Probuild and Craig Tan Architects was, how do we bring it to full and brilliant life? More to the point, ensure it's safe and compliant.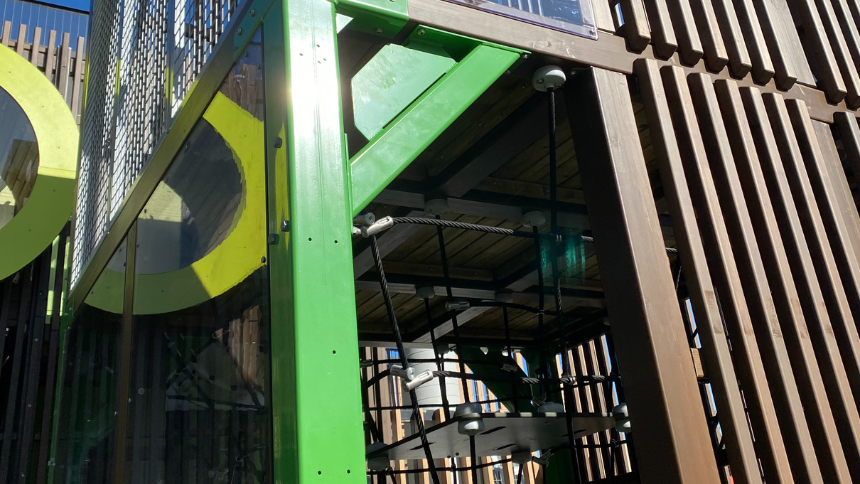 Partnering with playground specialists to enrich the design vision
"I knew what we were trying to do was possible – stacking blocks and staggering them to make towers – and thought the only way we'll do this is with someone who are experts in their field," Tan remarks.
Michal Krodkiewski wanted to work with playground specialists, and Lark Industries was a unanimous choice: "Lark was, in everyone's view, by far the most successful, both in terms of reflecting the brief and in creating something with a genuine point of difference, and the ability to anchor Karingal Hub's new Town Square precinct."
"Lark was great at navigating us through the process of getting compliant structures and making it safe, with the support of Lappset, which brought so much expertise to the table. We had the idea and the vision, and they enriched it and made it even better," Tan adds.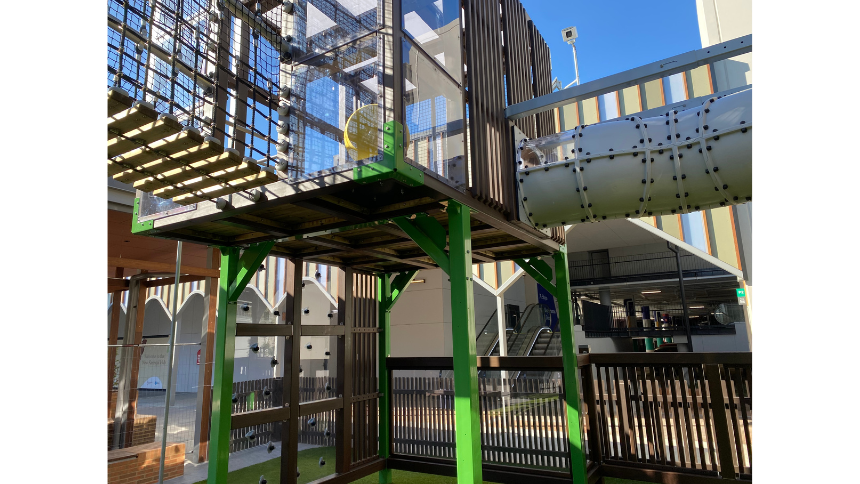 Ryan Longford, National Sales Manager at Lark Industries, project managed Karingal Hub's Happy Camp. It was a highly consultative process, working closely with Tan and Krodkiewski, and guiding Lappset through the design brief, adding their expertise on what's engaging and exciting for the local community.
Together, they delivered a unique solution that was as close to the design intent as possible, without having to create a fully bespoke solution. Using some of Lappset's core modular and proprietary components, Finno and Cubic, it was scaled and sized to create a new and exciting construction.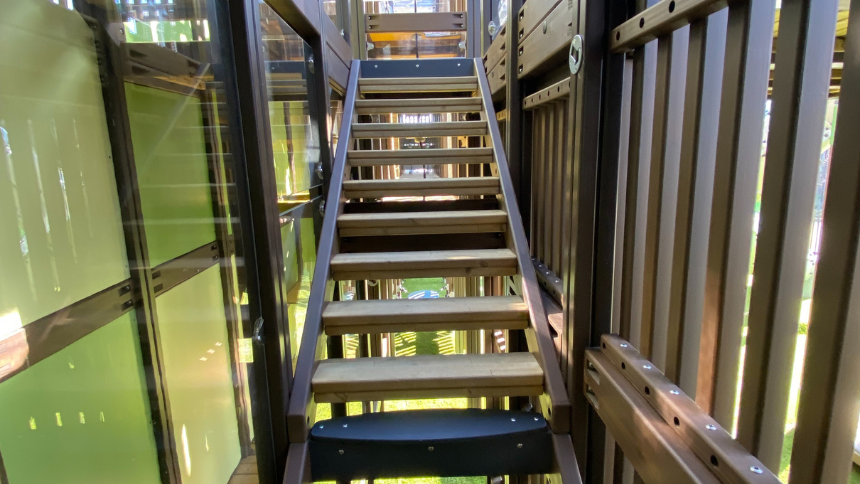 "Karingal Hub's Happy Camp is a really interesting outcome, something quite unique, the way it intertwines and goes together, which hasn't previously been done on that scale. There's so much going on in a tiny area. Given its size and scale, it's one of the largest structures we've delivered on one of the most constrained sites," Longford remarks.
This is where the advantage of a modular design shines through.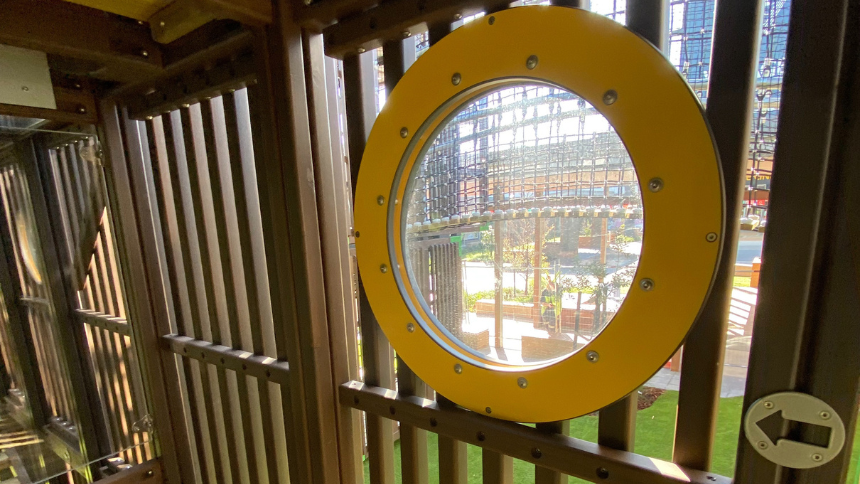 Using a modular design with genuine architectural quality
The playground's modular design enabled Lappset to keep its costs down, reduce lead time, and put so much more into the solution. Rather than customising every component, only materials and finishes were tweaked. What's more, the modular design was easily adapted to overcome any challenges that arose, with no need to develop a costly, bespoke solution.
Krodkiewski agrees, "The modular system enables some real individuality behind each piece, spatially and in terms of how you play on it. It's also got a pretty sophisticated palette – a lot of the other playgrounds we looked at, looked like playgrounds. They were childish, whereas this has an architectural quality, while still being fun. So in terms of assimilating itself within the Town Square, which has an architectural language, their product really hit the mark."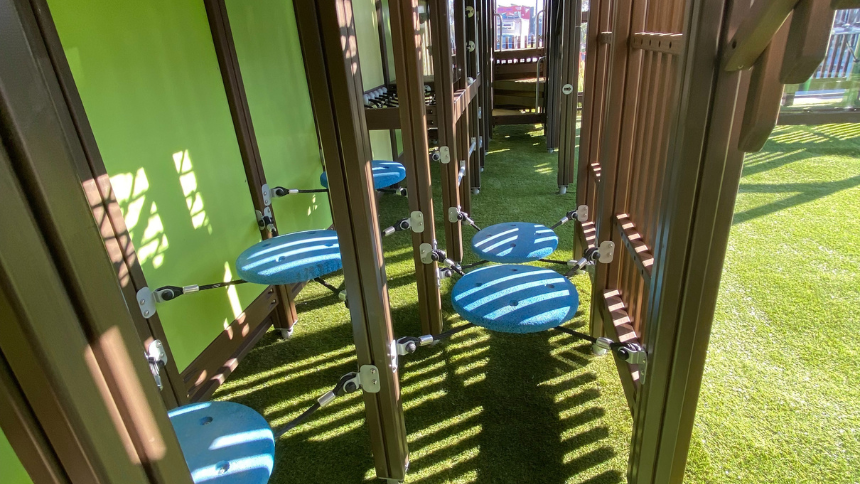 It is, indeed, an architecturally inspired construction with beautiful, soft finishes, dominated by natural brown and green tones. This reflects ISPT's intent to replicate and reflect the narrative of the Mornington Peninsula, with its natural environments, flora and fauna.  Far from the standard large steel playgrounds so often seen, Lappset is unique in its ability to offer large, creative structures in sustainable timber. Rounded battens of Nordic pine dominate, delivering a modernist design, and though quite geometric is still beautifully soft. The timber is paired with powder-coated steel accents, polycarbonate panelling, steel mesh and steel-reinforced ropes to complete the palette.
Karingal Hub Happy Camp has more than delivered on, what Wanless describes as, ISPT's vision of "creating a legacy as a much-loved playspace for our local families for many years to come, creating special memories, connection and fun-filled experiences."
Every project partner is eager to see ISPT's Karingal Hub Happy Camp embraced by the community.  Creating an exciting, memorable and engaging playspace, and seeing it come alive, is the greatest reward.