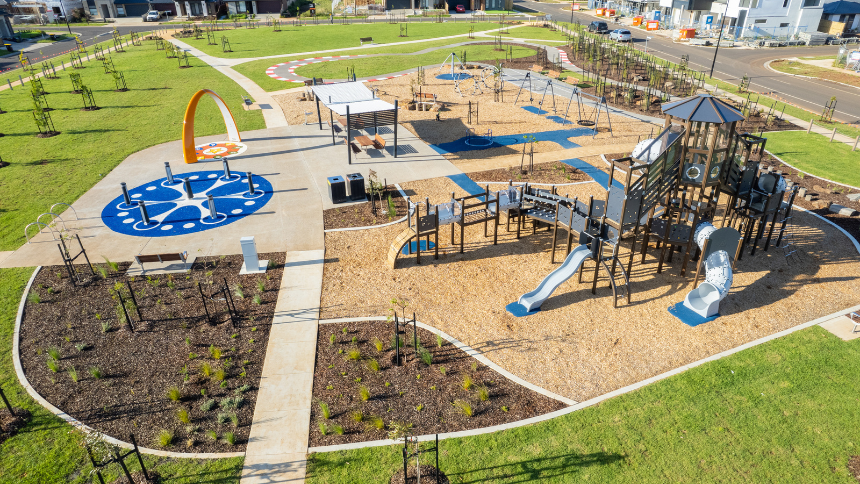 When Melbourne-based developer, Marantali, sought to create a playspace for Olivia Estate, a 1.27 hectare feature park at its master-planned community in Truganina, the goal was to deliver something unique.
It had to be multi-generational, inclusive, and dynamic.
"We wanted a playground offering a range of equipment for various age groups, including seniors. Something completely different to anything available in Melbourne," says Marco Liali, Director, Marantali.
Marco contacted Ryan Longford, Lark Industries' National Sales Manager, to discuss the options. Ryan says speaking directly with Marantali about its dream playspace made all the difference:
"Through speaking to Marantali, we were able to provide a first-hand look at the latest play experiences, which they may not have seen yet. We were able to give them a direct insight as to how they may be able to do things differently."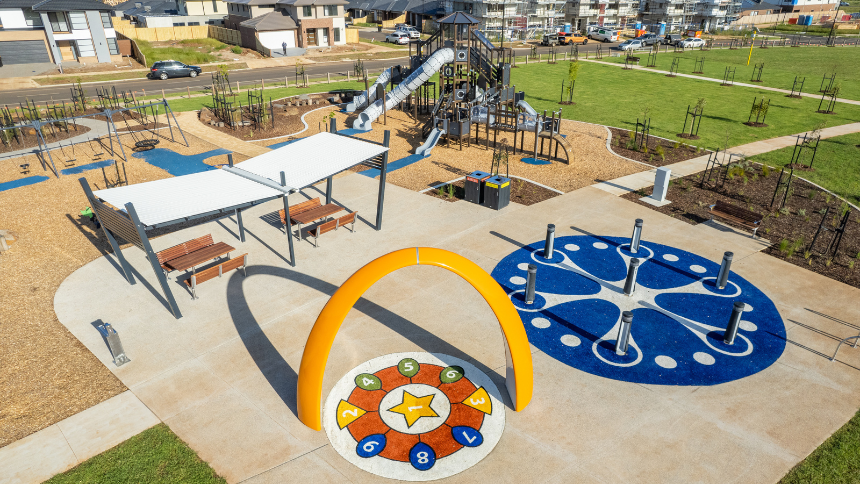 Lark Industries is the sole distributor of Yalp, experts in the development, design and manufacture of interactive smart play technology that combines the physical and digital worlds, and ensures everyone, regardless of age, ability, gender or background has equal opportunity for play.
Having direct access to Yalp, through Lark Industries, cemented Marco's decision:
"Ryan is always open to looking at different types of equipment. So, after he showed me Yalp, it was a no brainer; it had all the 'wow' features and was something I really wanted to look at. So, we went to the Netherlands to see it, and Ryan joined us, which was great, as he gave us a good rundown," comments Marco.
The Yalp difference delivers an Australian first in community playspaces
Olivia's exciting new playspace includes traditional and industry-leading internet-connected equipment, which brings together technology, gaming and outdoor equipment that is inclusive of all ages. The driving force behind the park's success as a state-of-the-art inclusive and interactive playspace, is its use of the latest play technology.
Olivia has two Yalp interactive products, both using technology and sensory engagement, such as touch, LED light responses, music and audible instructions that are all centered around physical movement and reaction. They engage the senses and encourage socialisation, teamwork, communication, problem solving, and movement:
The Yalp Sona, a first of its kind in Victoria, is a dance and play arch that works intuitively through the use of motion sensors. When users walk under the arch, they're asked if they want to play a game. Different games can be selected at the touch of a button and allow several people to play together.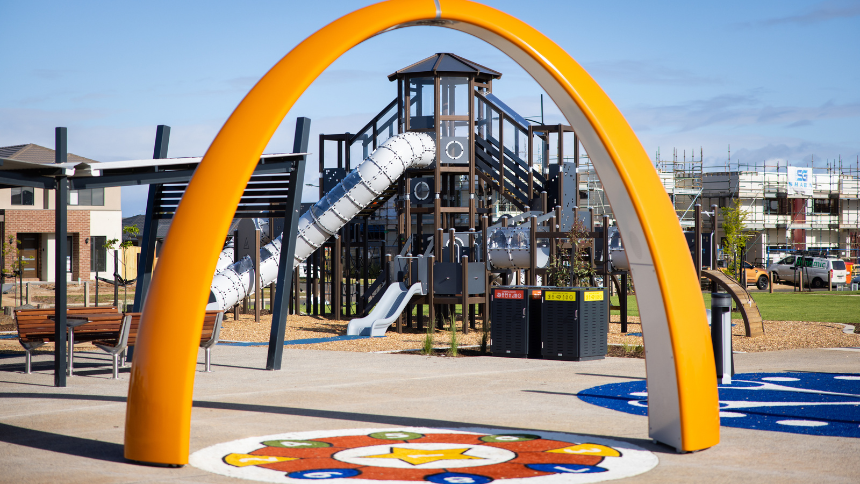 The Yalp Memo is a set of seven play pillars that emphasise learning through movement and fast paced agility games that challenge children, youth, parents and grandparents to experience engaging and unique play opportunities together. The Memo has numeracy games to promote mathematical skills, and spelling games that are linked to movement, so children are getting both mental and physical exercise benefits using the 360° LED touch panels.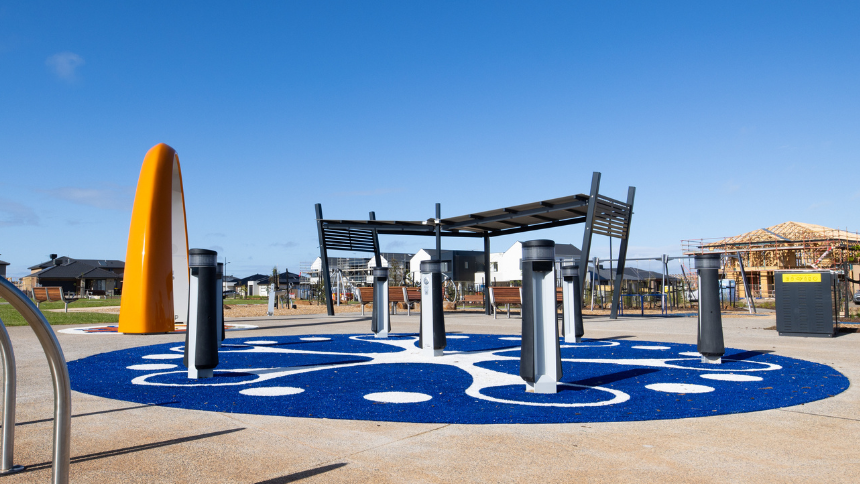 There's something for everyone
The products are dynamic, meaning because they're connected to the cloud, Marantali gets weekly play statistics and can upload new games, renew or change games, or adjust settings remotely to meet the community's preferences. More than 60 games cover agility, speed and reaction through racing, dancing, or musical chairs on a range of topics from maths, geography, and language to sustainability.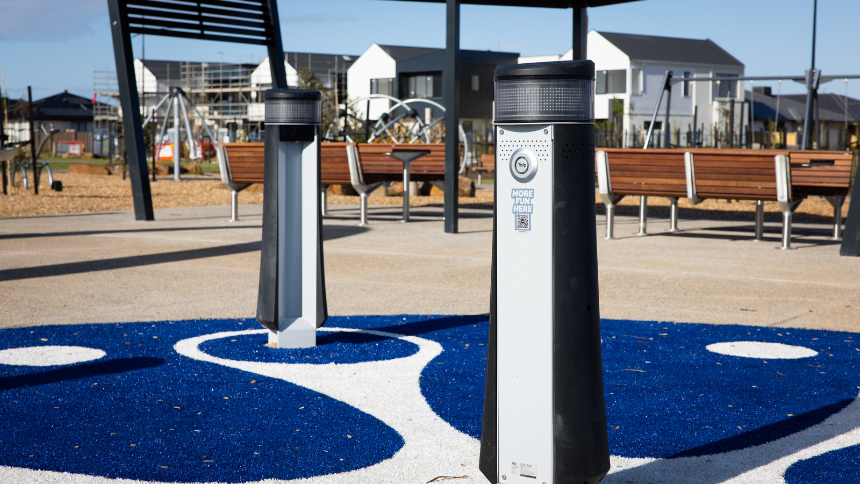 The equipment is wheelchair accessible and has games that are practical for children and adults who may have an autism spectrum disorder or older people experiencing dementia.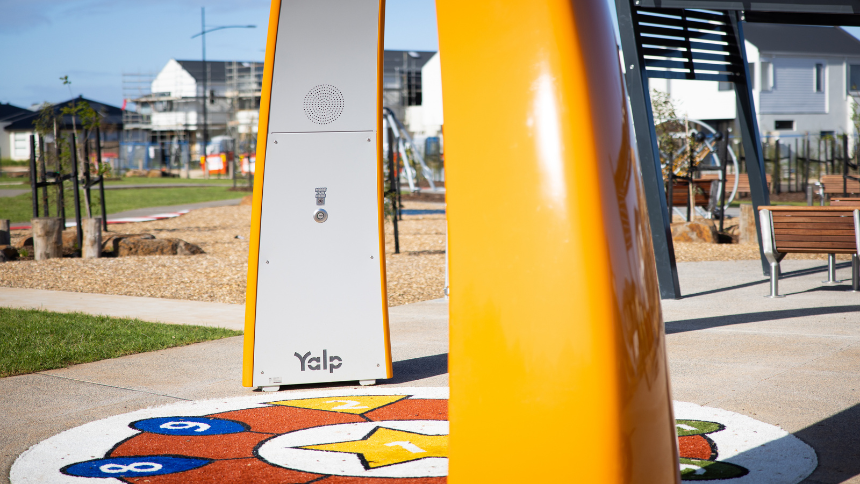 The playspace also features an exciting custom-designed Adventure Tower and Activity Track from Lappset, which houses five unique slides of varying heights and designs, including a large spiral slide extending from the feature tower standing 7m high. In addition to its versatile play value, the tower acts as focal point for the surrounding estate.  Traditional play equipment is also included with oxygen climbers, rockers, seesaws, a wheelchair accessible carousel, and a variety of swings also from Lappset and surrounded by a bike track from the team at Winslow Constructors.  The interactive technology complements this traditional play experience by offering new variety and opportunities for children and families.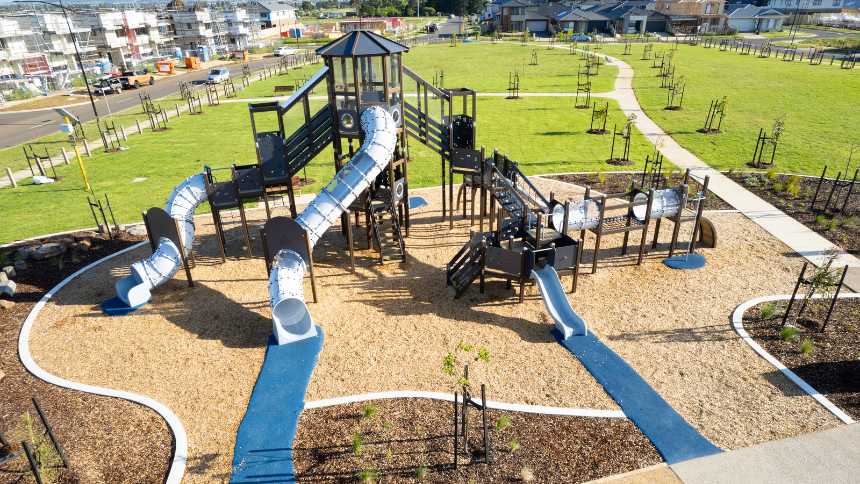 Collaboration is key to success
The Olivia Estate playspace was a genuine collaboration between Marantali, Lark Industries, Human Habitats and Winslow Constructors; and an exciting first for all in designing/building an interactive playspace.
"Collaboration between Council, client and designer was important because this project pushed boundaries. Joining forces to ask Melton Shire Council to think differently and offer something new was key. And at the end of the day, they realise they've got a great outcome at Olivia Estate.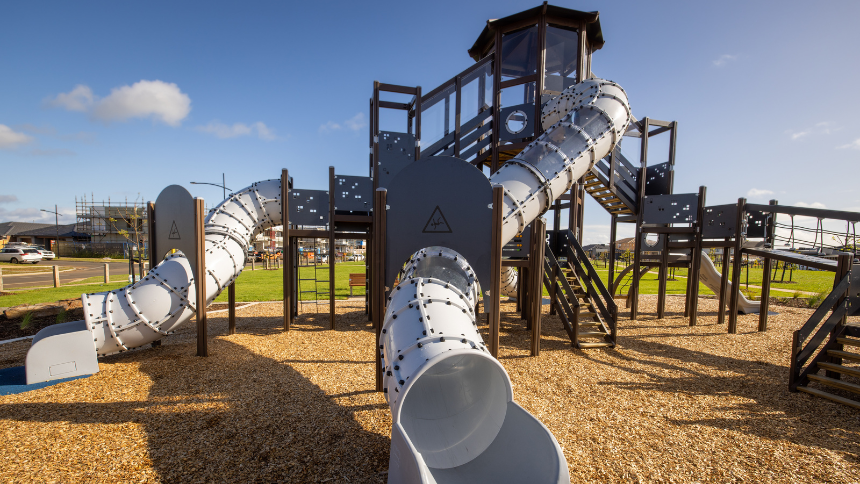 Marantali was great, there was no value management. Marco was prepared to put a bit of money up front, for ongoing maintenance, and support a great outcome. He wanted to leave a legacy, something different for the community," says Darren Atkinson, Director, Human Habitats.
Human Habitats says working closely with Lark, early on, was also invaluable:
"Lark has a great reputation – having that early conversation with Ryan and seeing how Lark can support a vision is critical. They're not just selling a piece of equipment, they are getting on the front foot, working with designers, coming up with themes and looking at unique ways of combining equipment. That makes a difference," says Darren.
Josh Rolfe, Project Manager at Winslow Constructors agrees, "it was good to see it evolve from the plans and come to life. And Lark was great, they're always accessible and stuck to timelines, which made it so much easier."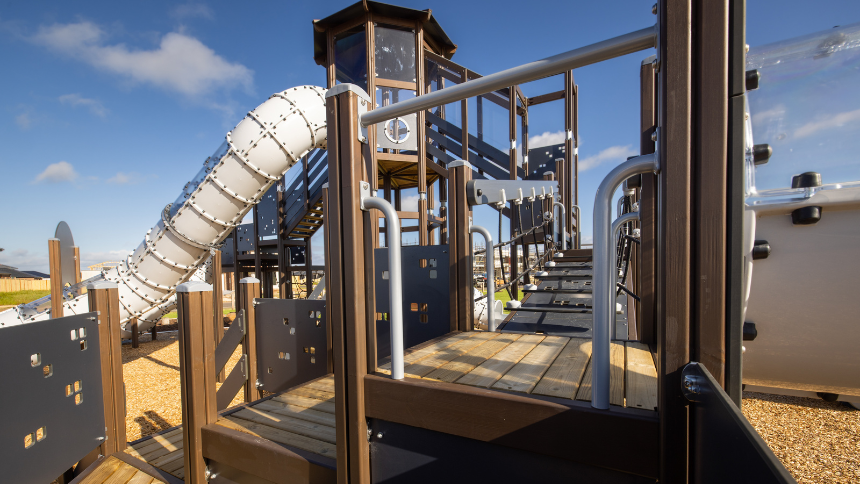 One month on, feedback indicates everyone loves the playspace, "it's good to see children and families using the space, it's an active area," says Ashley Tam, Landscape Architect, Human Habitats. And with the interactive equipment being used more every week, Marantali is ecstatic:
"I couldn't be happier. Lark has been fantastic. I'll go directly to them for our new projects; that relationship will be ongoing because I've got that rapport with them, I trust Ryan more than anything," concludes Marco.
The multi-generational, all-inclusive, and dynamic Smart Technology Play offers an open and interactive arena for everyone in the Olivia community to get involved and play together.