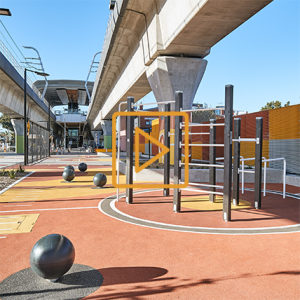 Lark Industries, in collaboration with ASPECT Studios, supplied 11 activation nodes of fitness and exercise equipment that sit within 22.5ha of new community open space and 17km of pedestrian and cyclist paths.
These new spaces were created by the transformation and elevation of Melbourne's busiest rail line, as part of the $1.6 billion Caulfield to Dandenong Level Crossing Removal Project.
Click on the image on the left to watch the video fly-through now!